Welcome to Team TCP's Year 6 Class Page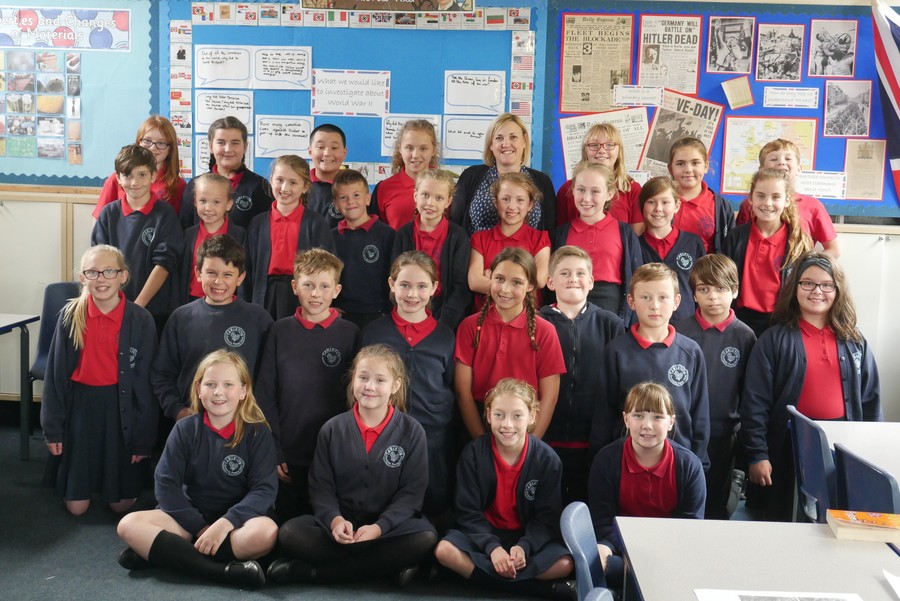 This year our teacher is Mrs M Smith (there are two Mrs Smiths, so don't get confused). Other adults who work with our year six team are Mr Jones, Mrs Edwards, Mrs Cookson, Mrs Biltcliffe and Mrs Ng.
We have 30 children in our class and we are all really proud of being role models for the rest of the school. We all have a prefect job which helps the school run smoothly and we like nothing more than helping the younger children. We are enthusiastic, hard working and resilient. We are keen to take on the challenge of year six and develop our skills so we are ready for high school.
Our themes for this year include: World War II, European Geography, Local History, Ancient Greece and Earthquakes and volcanoes.
We start the week with swimming lessons at Tarleton Academy on Monday mornings; we are perfecting our strokes and learning vital water safety skills. On Tuesdays we are developing our own dance to the classic Pink Floyd track, 'Another Brick in the wall'. We love rock music so much, we are also studying it in music with Journey's 'Don't Stop Believing'.
We have an exciting October ahead when many of us will be attending our yearly residential trip to the Lake District. We will be climbing mountains, canoeing, sailing and ghyll scrambling. Fingers crossed the weather will be kind!
We are looking forward to a truly successful year and know that with support from our parents with reading, spellings, times table practise and MyMaths we will all be able to achieve our full potential.
We hope you enjoy sharing our learning journey!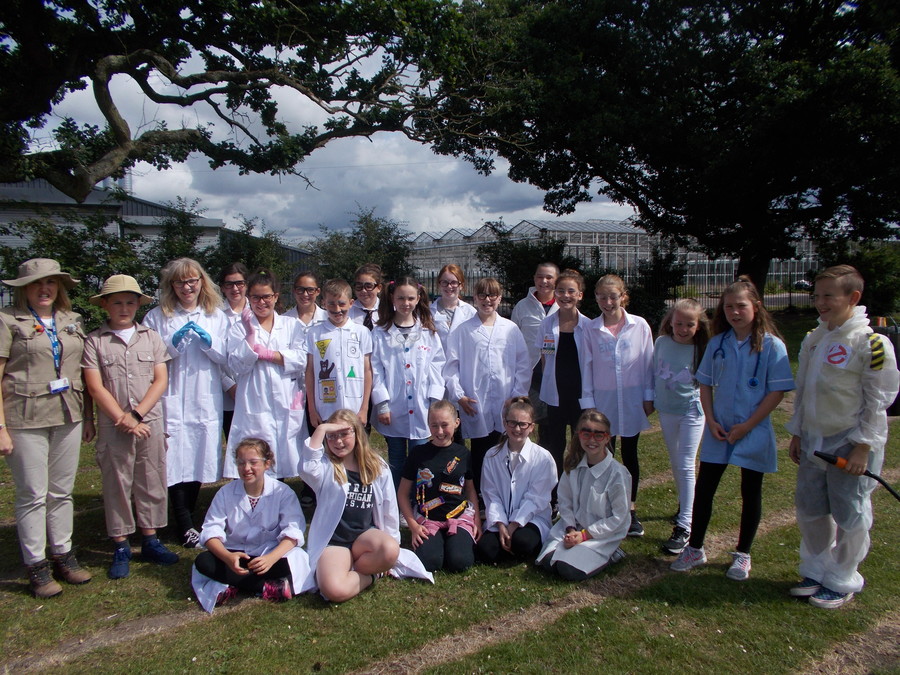 During our space themed science week we have been involved in all things 'lunar'.
We have investigated gravity and its impact on the mass of an object. We experienced the pull of gravity and compared the mass of an object on Earth compared to its mass on the Sun.
We also calculated the mass of an astronaut on different celestial bodies. Did you know the gravity on Comet67P compared to Earth is only 0.17 whereas on the sun it is 28!
We investigated how craters are formed by meteorites. We tested whether the mass, type of material or shape of the meteorite affected the size of the crater and whether the height at which it fell affected it. We had great fun although it was a little messy!
We designed and built a rocket. We tested many different shaped nose cones; a variety of fin shapes, sizes and materials; and the best way to launch our rocket. To celebrate the end of Science Week, the whole school sent their rockets on a final flight and we WON!! Our rocket flew the length of the netball court.
Mrs Malliband's son, Chris, who is a geologist, spoke to us about how to land 'rovers' on Titan. We learnt about crumple zones, airbags and parachutes. There were some great demonstrations to watch. We used an egg to represent the 'rover' and investigated which system worked the best.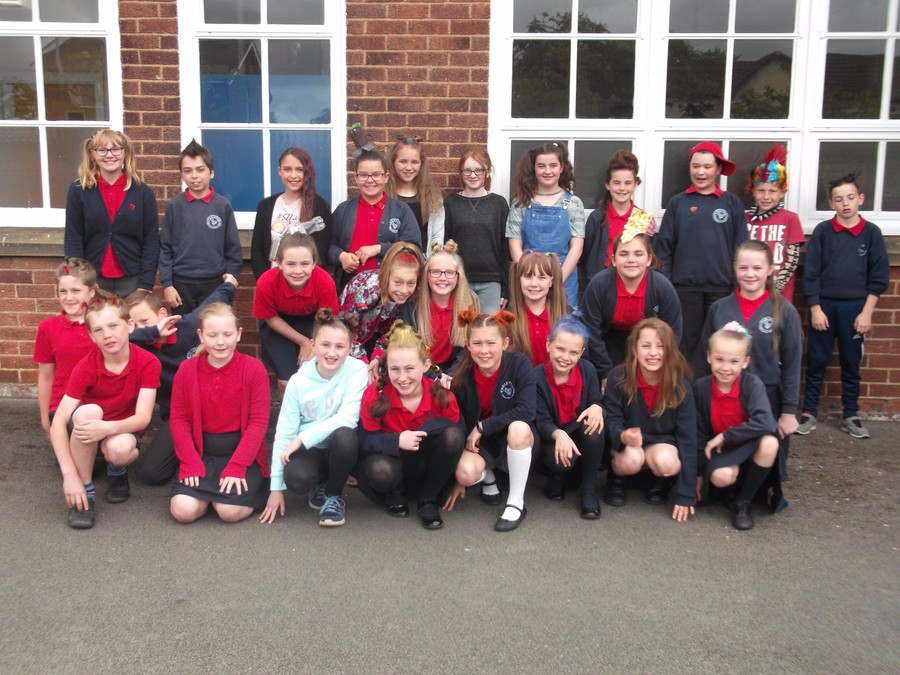 We have been raising money for children in Syria by having a 'Silly Hair Day'. We also had a few silly faces!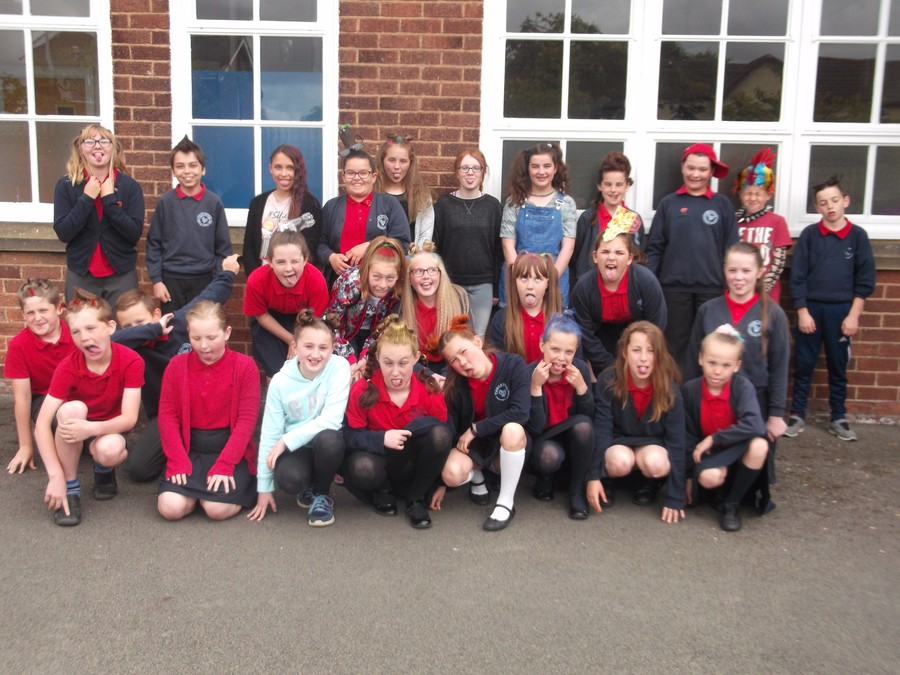 Local History
We visited Tarleton Library to learn more about our area's history all the way from the Ice Age to World War II.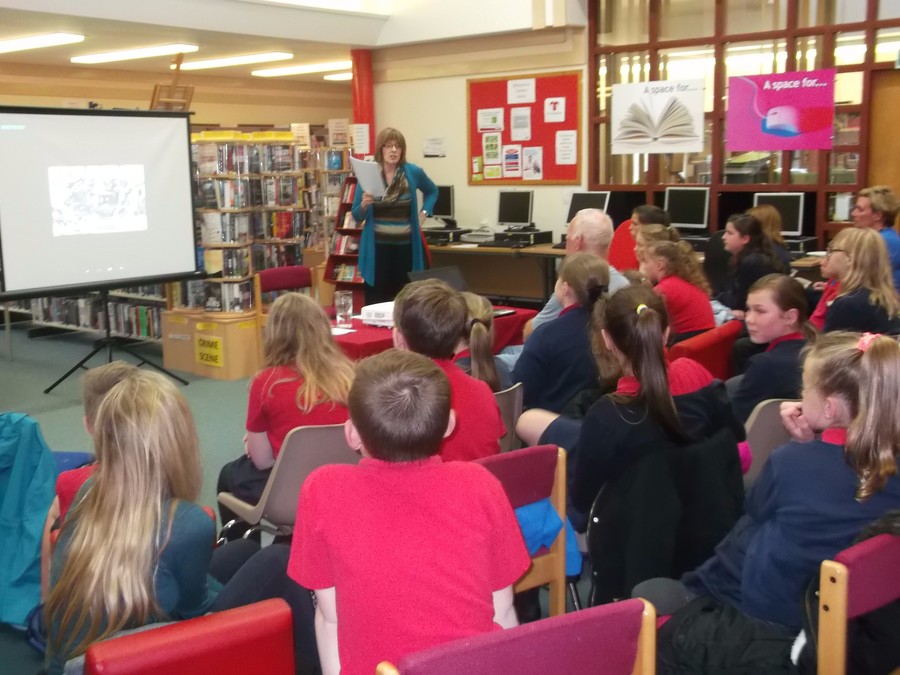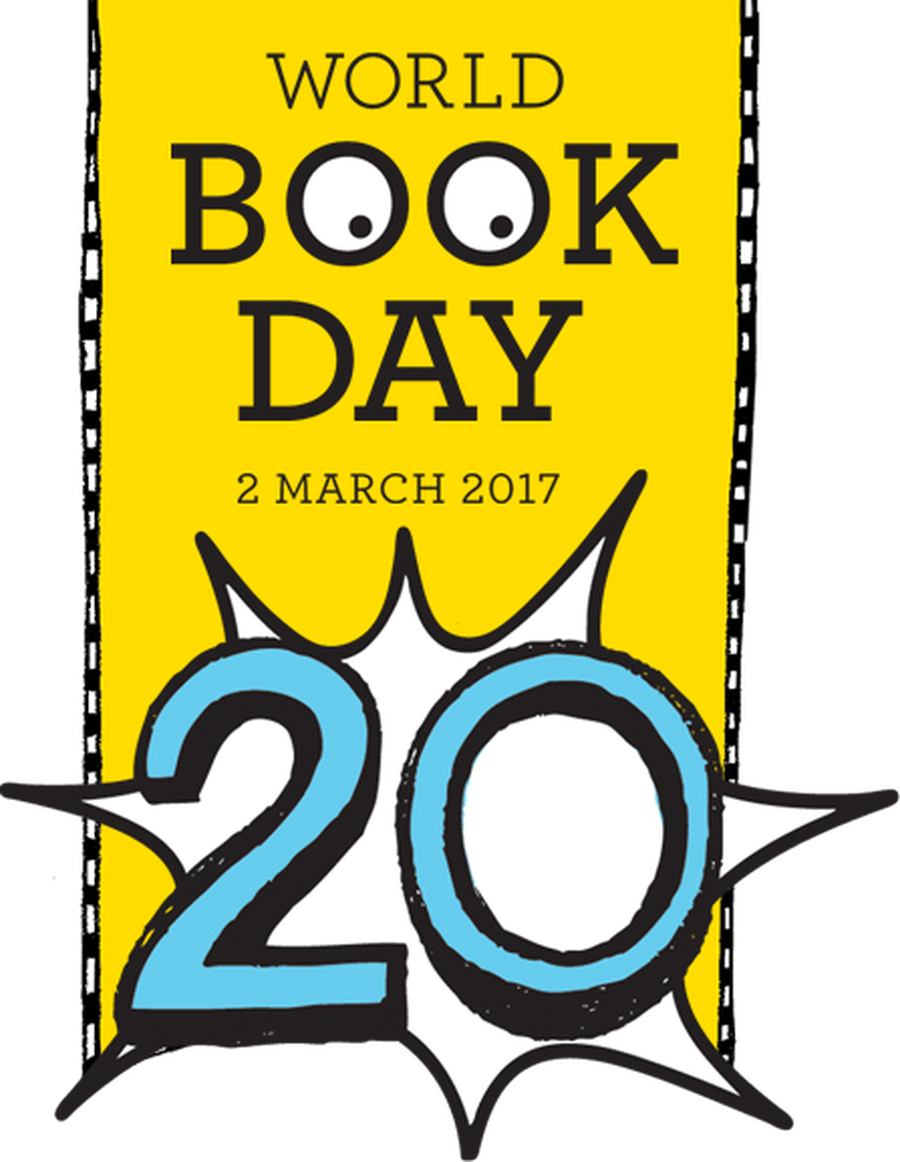 World Book Day
We have dressed up as our favourite characters; recommended books to each other; played book charades and even written our own stories based on the Dreamgiver.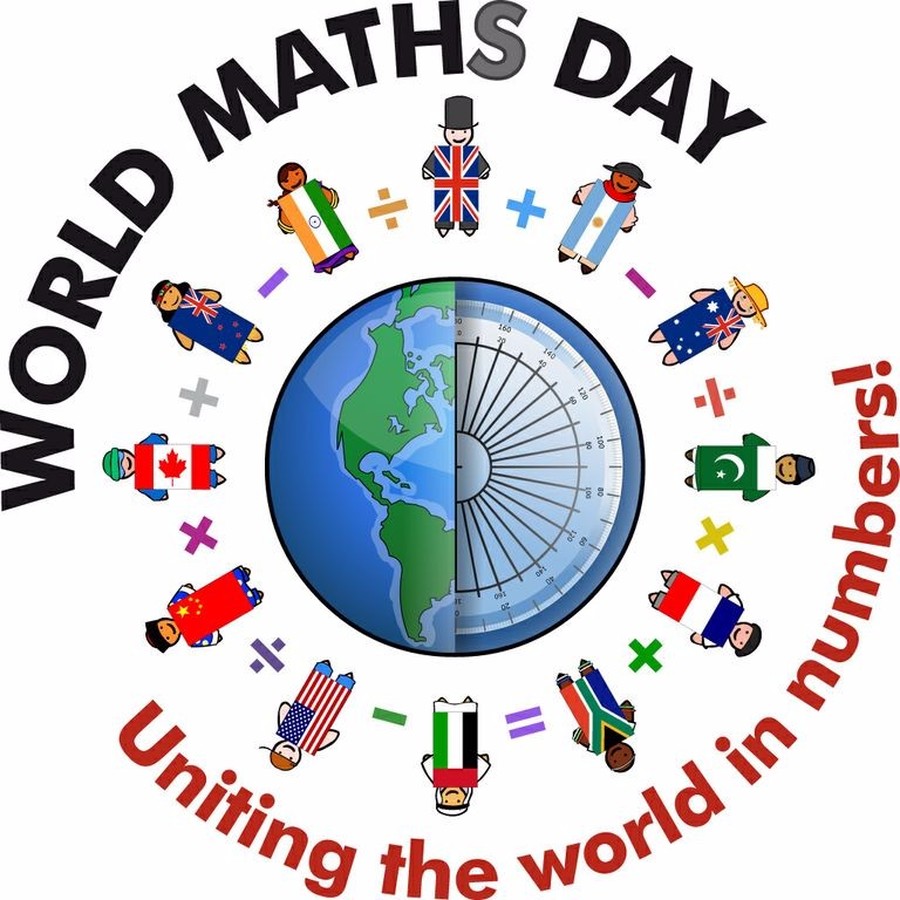 World Maths Day
We had a great day celebrating World Maths Day. We had an exciting assembly about Archimedes' Eureka moment and then were challenged to be maths detectives. We were given a special task - to investigate the largest organ in the human body. Did you know it is our skin! We investigated different ways of calculating it. In the afternoon we solved a maths murder mystery and took part in a maths trail with our parents.
SPRING TERM 1
Safer Internet Day
Our focus was on posting images on the internet. We learnt that once images are posted we lose our control over them so we should think carefully about what we post. We also learnt that images on the internet are not always truthful and can be manipulated. Take a look at some of our posters which show what we have learnt.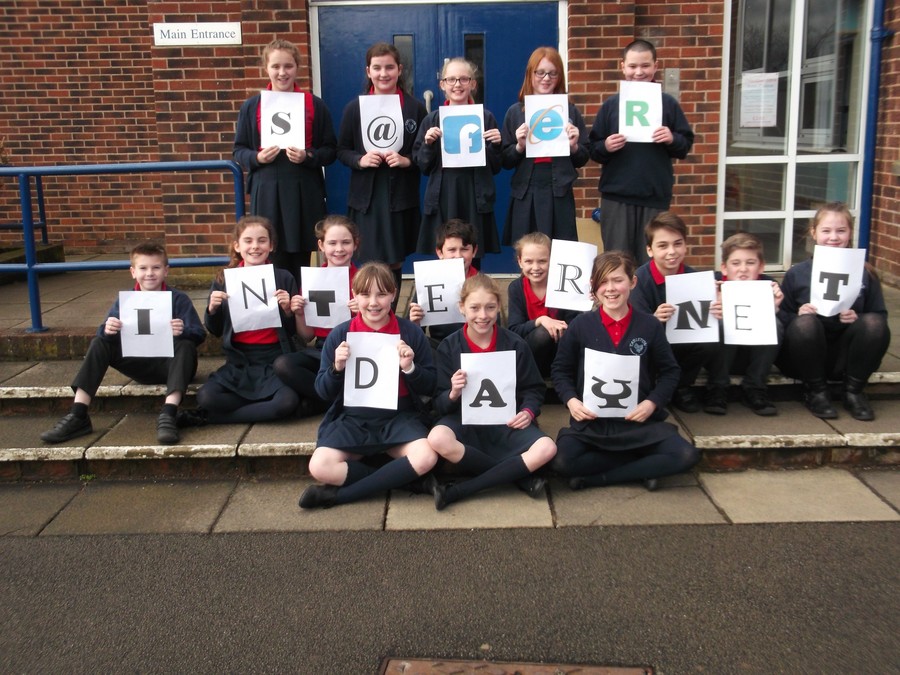 Gymnastics
Our focus is to create paired sequences. We have been practising types of paired balances called counter-balance and counter-tension. Have a look at some of our work.
Geography
We are studying how mountains are formed, particularly the French Alps, and we are improving our mapping skills. We have studied the 16 compass points, different types of maps, contour lines, map symbols and we will be producing sketch maps. We completed several practical activities to understand how different mountains are formed.
English
We have studied the Lewis Carroll poem 'The Jabberwock'.
We have worked hard to learn the poem off by heart and to perform it to the class. We then wrote our own non-chronological report about the Jabberwock. Read some of our reports below.
We are currently reading the Louis Sachar novel 'Holes' and we are really enjoying it.
AUTUMN TERM 2
Remembrance Week
During Remembrance Week we have been studying the impact of the Second World War on other countries. We have based some work on the book 'Rose Blanche' which showed us how the war affected children within Germany. We have also studied the bombing of Pearl Harbour; and the bombing of Hiroshima and Nagasaki. To show our knowledge and understanding we created our own TV news program to report the devastating news about the atomic bombs falling on Japan.
Anti-bullying Week
During Anti-bullying Week we have been studying the impact of discrimination on people's lives. We also focused on discrimination in football including homophobia. We also support the #Klick It Out campaign which is football against discrimination.
Enterprise Week
During Enterprise Week we have been studying how businesses work and we were challenged to create our own business and, with a budget of only £20 which we had to bid for, we had to make a product to sell at the Christmas Fair.
We began by having an excellent workshop led by Mr Whittingslow who runs a large Solicitors. He gave us some really useful ideas about how to set up and run a successful business.
Next we developed our teamwork skills through several group challenges including making a spaghetti and marshmallow tower!
Following that, we held a board meeting to share our ideas about what product we would produce. We voted for which design we thought would be most successful.
We split into departments to develop our ideas further.
Finally we set up our stall ready for the Christmas Fair. Through our excellent teamwork and problem solving skills we made an amazing profit of £90!
Science
We've been investigating the properties of materials in science. We have made coats for snowmen; made our own lava lamps; and investigated the density of liquids.
Art
We have been studying still-life composition. We have learnt about arranging our items in a triangular formation and grouping our items into themes.
We have studied the work of Lichtenstein, Picasso and Warhol to produce our own pop art and cubist works of art.
RE
We have been studying Hinduism and how sacred stories and their lessons are passed on through Smriti. We reenacted the story of Rama and Sita.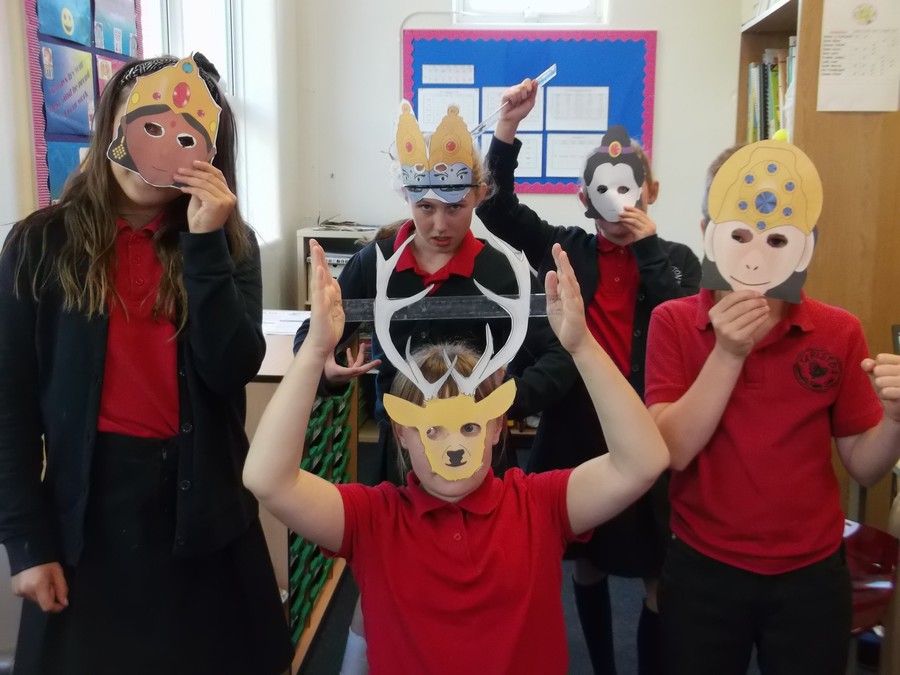 Vision Day
During TCP's Vision Day we went out and about in the community and interviewed local residents about our school events and how we and the community can become more involved.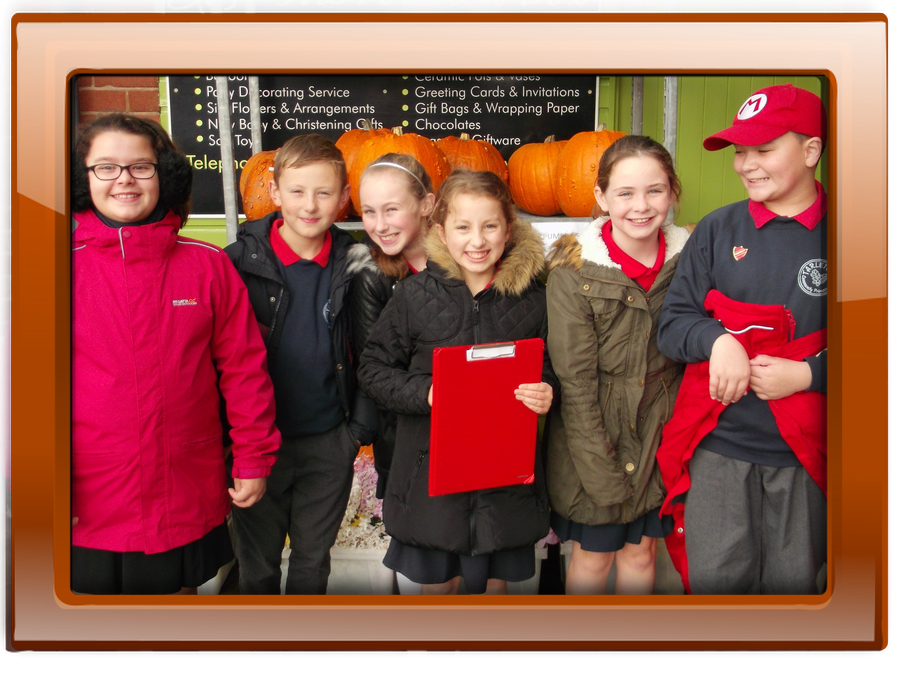 PE
In Dance we have been choreographing our own routine to Pink Floyd's 'Another Brick In The Wall'.
What we will be learning to do this year?
| Name | |
| --- | --- |
| Key Learning in Art and Design Years 5 and 6.doc | Download |
| Key Learning Computing Years 5 and 6.docx | Download |
| Key Learning in Design and Technology in Years 5 and 6.docx.doc | Download |
| Key Learning in Geography Years 5 and 6.doc | Download |
| Key Learning in History in Years 5 and 6.doc | Download |
| Key Learning in Reading in Year 6.docx | Download |
| Key Learning in Writing in Year 6.docx | Download |
| Key Learning in Languages Years 5 and 6.docx | Download |
| Key Learning in Mathematics - Year 6.docx | Download |
| Key Learning in Music Years 5 and 6.doc | Download |