Welcome to Double Basses!
Our teacher this year is Mrs. Bruzzese and we are lucky to have Mrs. Taylor every morning to help us learn. Miss. Latham and Mrs. Fairbrother join us in the afternoons to allow us to learn even more!
We have 27 friends to learn with and we really enjoy be creative and sharing our best work with every one. In Double Basses we enjoy opportunities to explore our themes through role play, singing and painting as well as our fantastic writing!
This year we will be learning lots of exciting things! We like to link our Literacy and Guided Reading work with our themes and are really looking forward to creating some amazing work! We like to use film clips to give us ideas and have already enjoyed exploring Great Fire of London, Dragon and Three Pigs film clips. There will be lots more to come!
We really like to read to people and love opportunities to practise at home with our parents, grandparents, aunties, uncles, in fact any body who will listen and enjoy our reading! We have fun playing games on MyMaths to help us become mathematical geniuses!
We need our P.E. kits in school on Thursdays and Fridays. On Thursday morning Mrs. Bruzzese lends us to Mrs.Fairbrother to help us learn and have fun. This is when we have our special 'show and tell' time where we practise our speaking and listening skills and also when we go to the library to choose a library book to take home for a week.
We are a very enthusiastic class and we're looking forward to a very exciting year!
Fire, Fire! Our theme of The Great Fire of London...
Double Basses have been having lots of fun learning about the Great Fire of London. We have explored what happened, where it happened and who was involved. We have watched video clips to help us imagine being there in Pudding Lane and have been using microphones and clip boards to interview each other.
We've been creative and have made houses in the style of 1666! Mrs. Bruzzese and Mrs. Wright were very proud of how independently we wrapped and decorated our houses, using pictures to help us to know how they looked. We hope you like them!
We are learning about being a journalist and were lucky to have a visit from Paul Joyce, a real life journalist! He taught us lots of features of newspapers and helped us to create our own front cover. We now know what we need to do to be brilliant journalists and can't wait to make our own newspaper, The TCP Report!
Look at us working hard with Paul!
Dragons! Our Literacy work linked to our theme...
We have been working hard, but also having fun exploring and reading about dragons! We have read some great texts about Two Nasty Dragons and St George and the Dragon to practise our reading skills and give us ideas to help us write amazing stories! We invented our own dragon and made Top Trumps cards to write down our ideas. We made our dragon using salt dough and microwaved them before we could paint them!
Look at us painting our models!
We are very proud of our dragons and hope you like them too!
The Lazy Mondays! Our music morning....
On the 3rd of October we had a visit from The Lazy Mondays music group. We had fun listening to the Carnival of the Animals and then made our own Space Bugs. We imagined how our space bug moved and how it might sound and created our own music using lots of different instruments.
Our Countryfile Ramble for Children in Need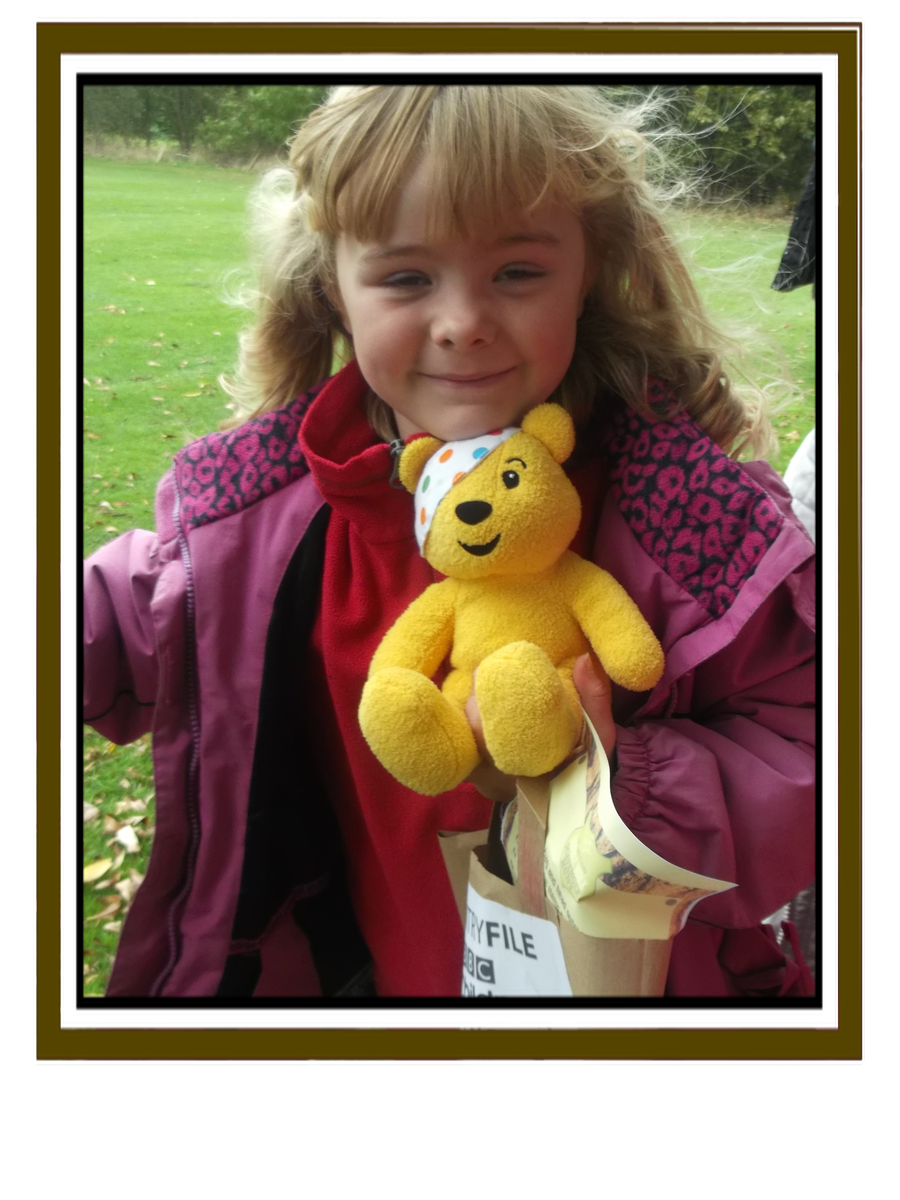 On Friday 14th October we rambled to Carr Lane Woods (and a bit beyond!) to raise money for Children in Need. We made a scavenger bag to take with us. Once we walked the plank into the woods we began our hunt for Autumn things. We found a feather, 2 stones, leaves, sticks and something fuzzy! We worked out that there were not so many flowers around in this season although we were tempted by a lovely garden on Carr Lane! We were lucky to have some of our parents to join us too. We raised around £1000 for Children in Need! Well done everybody!
We have been exploring the edges and vertices of 3D shapes by trying to create them using playdough and K-nex sticks. It was lots of fun and we worked well in teams to create 3D shapes together.
We were lucky to have a visit from Mr Turner from the Royal British Legion. He taught us about WW2 when he was a boy. We were very shocked when he told us that he had no sweets or internet!
Thank you Mr Turner, we really enjoyed meeting you.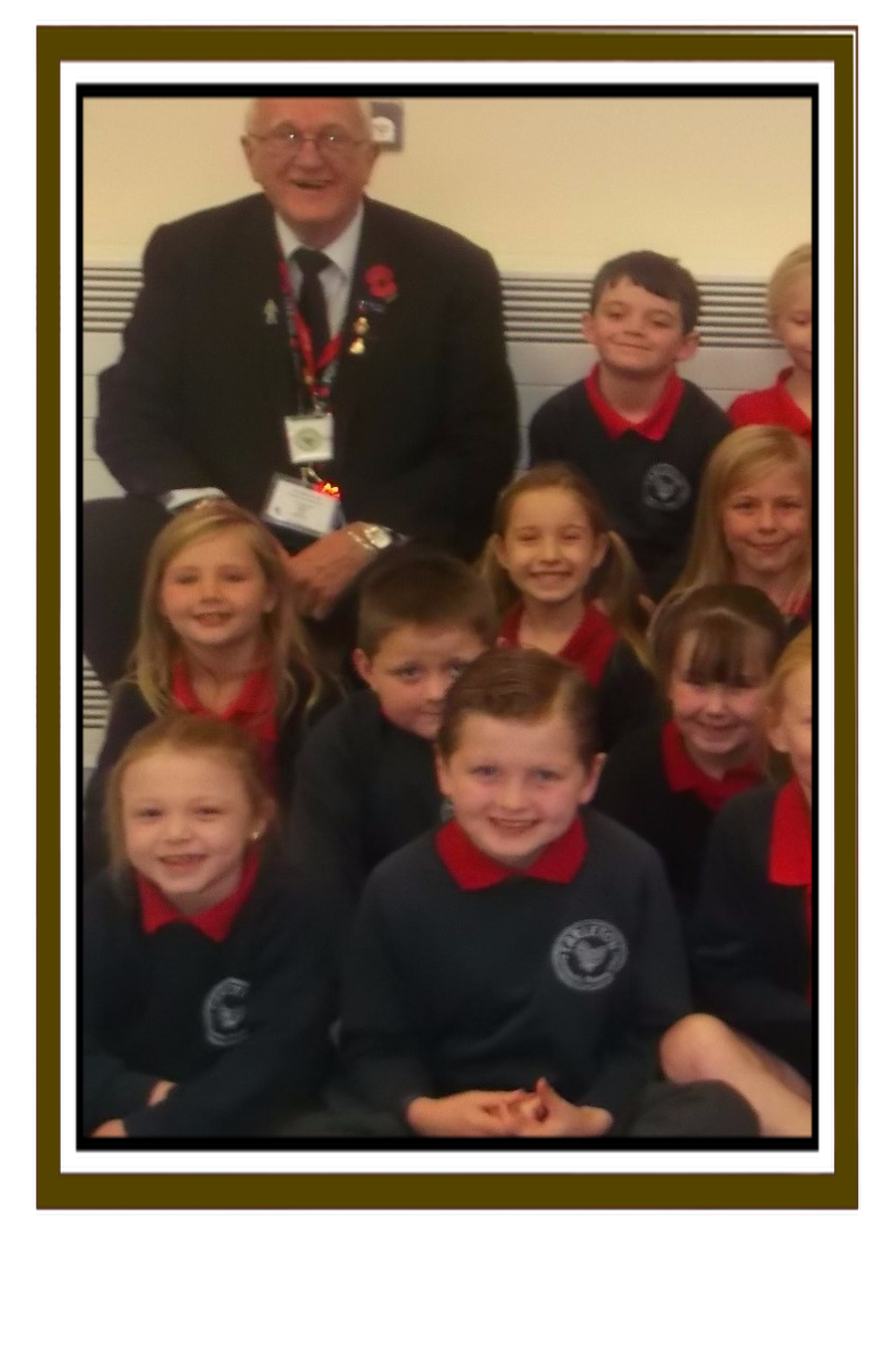 Clitheroe Castle Trip 10.11.16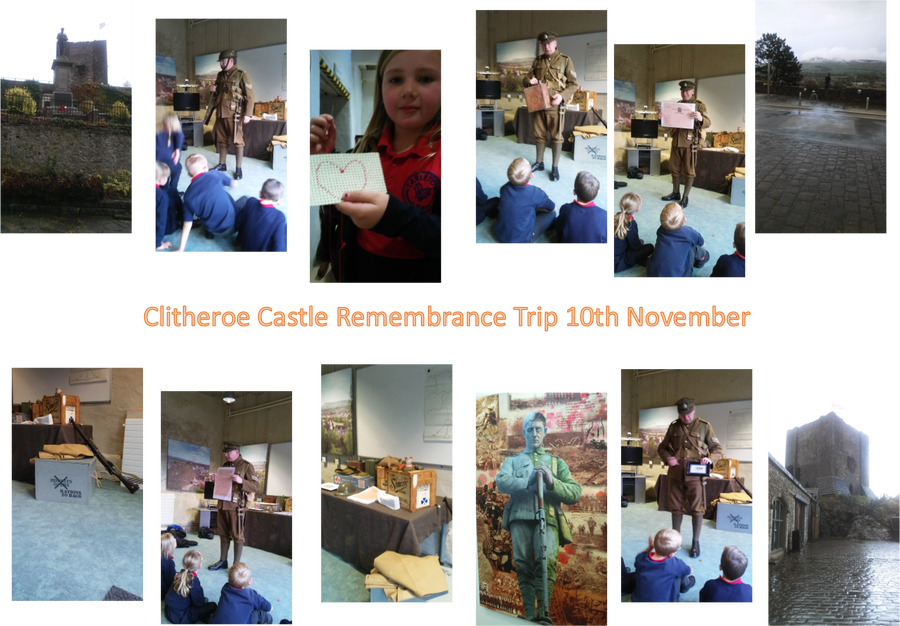 On Thursday 10th November we travelled to Clitheroe Castle to learn about Remembrance. We had an amazing morning sewing postcards, writing poems and learning about being a soldier from our wonderful museum teachers. We learned lots and were lucky that we could share everything with the rest of the school and our parents in our class assembly.
Listening to The Last Post helps us remember the soldiers who died in all the wars around the world. Click here to listen...
Read our poem! We hope you enjoy our amazing ideas!
Our visit to Southview Lodge Care Home
On Friday 18th November we were invited to visit Southview Lodge Care Home to spend some time with the elderly residents. We played all kinds of games like Jenga, skittles and parachute games with the residents- we even had a snack! It was great fun and we didn't even get wet walking there on a rainy day. We can't wait to go again soon.
The day the Fire Engine came to visit!
On Wednesday 23rd November we were really excited when the local fire engine came to visit! We have been learning about the Great Fire of London, so we know a lot about fighting fires in 1666 but now we know about fighting fires in 2016 too! We learned about what number to ring if we need help and what to do in case of a fire at home. We were lucky enough to see the hose pipe squirt water a long way down our field! Before they left we listened to the siren. It was a very exciting afternoon as we also made fire engine pictures with lifting up ladders.
This half term we have been having a fantastic time learning all about dinosaurs!
We have studied a famous fossil hunter called Mary Anning who lived 200 years ago.
Click below to find out more about Mary Anning!
We have created some amazing dinosaurs to use in our lessons.
We've used our dinosaurs to help us learn about money, using rulers, weighing and alphabetical order! They have been so helpful.
We have created poems and information pages about our dinosaurs in our books and even on the computers. We will upload our Dinosaur Powerpoint when we have finished, it is amazing!
Our classroom is full of fun dinosaur activities to help us learn, including our own dinosaur museum which we are busy creating to teach everyone else our super facts.
On Tuesday 7th February people all over the country celebrated Safer Internet Day 2017.
The Double Basses spent the day learning about how to stay safe on the Internet.
We watched some great video clips to help us learn more. Click below to watch our favourite!
We learned that we should always ask permission before using any websites, online games or before watching any online videos. We learned a lot about images and photographs. We have even started an experiment to see how far around the world an image can travel on Facebook. We think it might even get as far as the continent of Australia or South America!
To help other children to learn about Safer Internet use we made posters and badges to share our interesting facts. We hope you like some of our posters!
We spent some of the day exploring the Internet using the Learnpads.
We really enjoy using the Internet safely!
We learned that we should always ask permission before using websites and playing games online. We spent a lot of time talking and learning about what happens to pictures and photographs once they are shared online. We are taking part in an experiment at the moment to find out how far around the world an image, shared on Facebook, can travel. We think it might even reach Australia!
We made badges and posters to teach other people all about what we had learned. We hope you like some of our posters!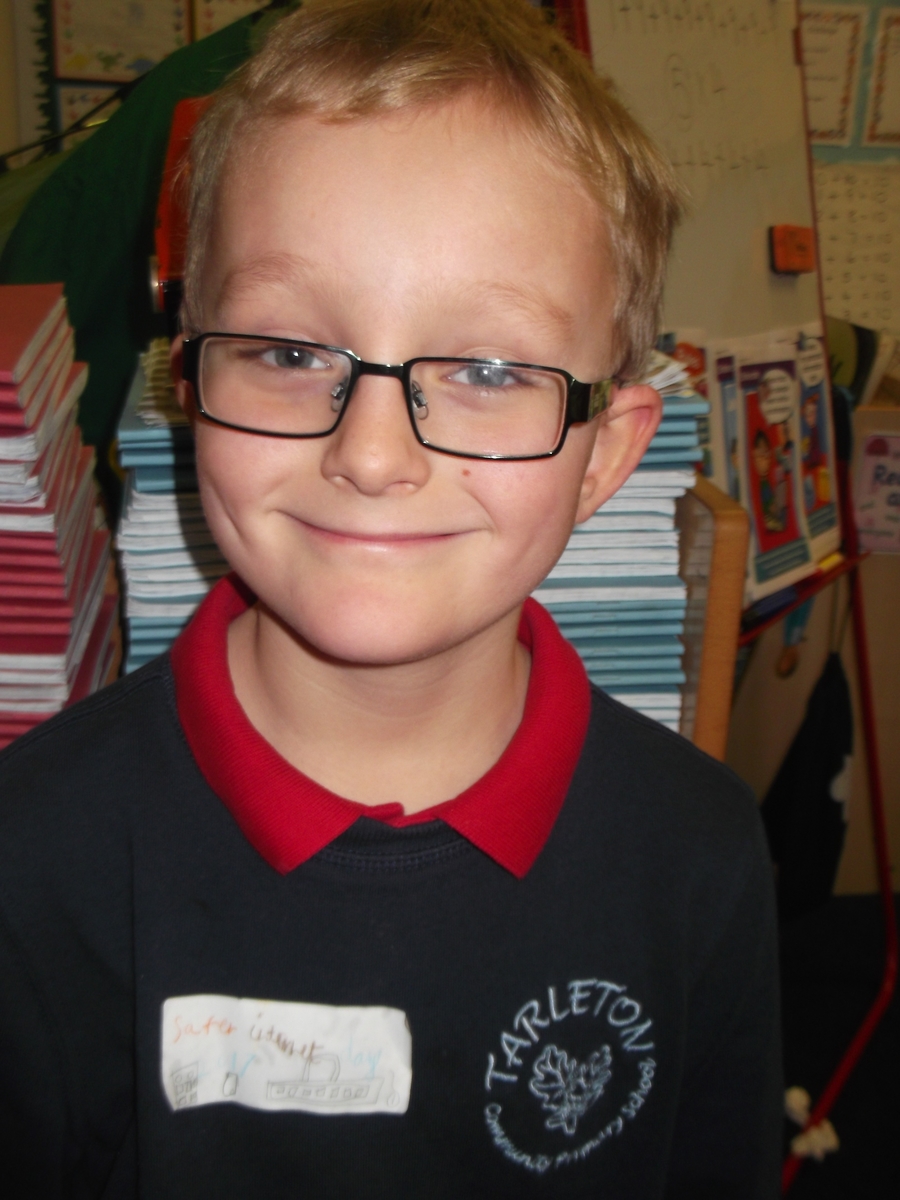 If you want to find out more about what we learned, please open the document below.
Charles Darwin Day Celebrations 10th February
On Friday 10th February we celebrated the life and work of another significant person, Charles Darwin.
We discovered lots of facts about his life including the fact that he was alive at the same time as Mary Anning. We wondered if he ever studied any of the fossils that she found.
We watched video clips and carried out investigations of our own to find out more about his work.
We investigated some of his scientific theories including his theories of natural selection and evolution.
Click below to watch a clip and find out more!
We learned about Darwin's investigation of Finches in the Galapagos Islands. We enjoyed pretending to be Finches, picking up seeds (counters) with our long beaks (tweezers)! It was tricky! We found that we could pick the counters up more easily with our fingers. We began to understand that the beaks would be more useful if they were shorter, just like the beaks of some of the Finches! We discovered that when we had to choose counters we chose the ones which were not the same colour as the paper first. This helped us to understand how animals adapt to their surroundings to avoid being eaten!
We also read an excellent story called 'Charlie and the Kiwi' all about a boy who time travelled to meet his ancestor, Charles Darwin! We learned that Darwin had, on his travels around the world, discovered animals never seen before. We thought that this must have been very exciting and interesting so we enjoyed creating new animals which no one had ever seen before, such as rabbit/fish and camel/horse creatures. It was great fun!
World Maths Day 1st March 2017
On Wednesday 1st March Double Basses had a wonderful time learning all about problem solving. We had an exciting assembly where we learned about another significant person, Archimedes, who lived a very long time ago! We found out that he was a mathematician and scientist who made important discoveries, some even in the bath! We were given a very important, top secret maths assignment which we had to solve. Our problem was all about dinosaurs, which made us very happy. We used counters and dinosaurs to solve lots of problems all day and even found time to play maths games on the hundred square in the playground with Miss Latham.
Our day was ended with some of our parents arriving to look at our amazing work and complete a very tricky maths trail around school. We were all very tired and very happy at the end of our exciting day. Take a look at our photos to see some of the fun we had!
World Maths Day 2017
World Book Day 2nd March 2017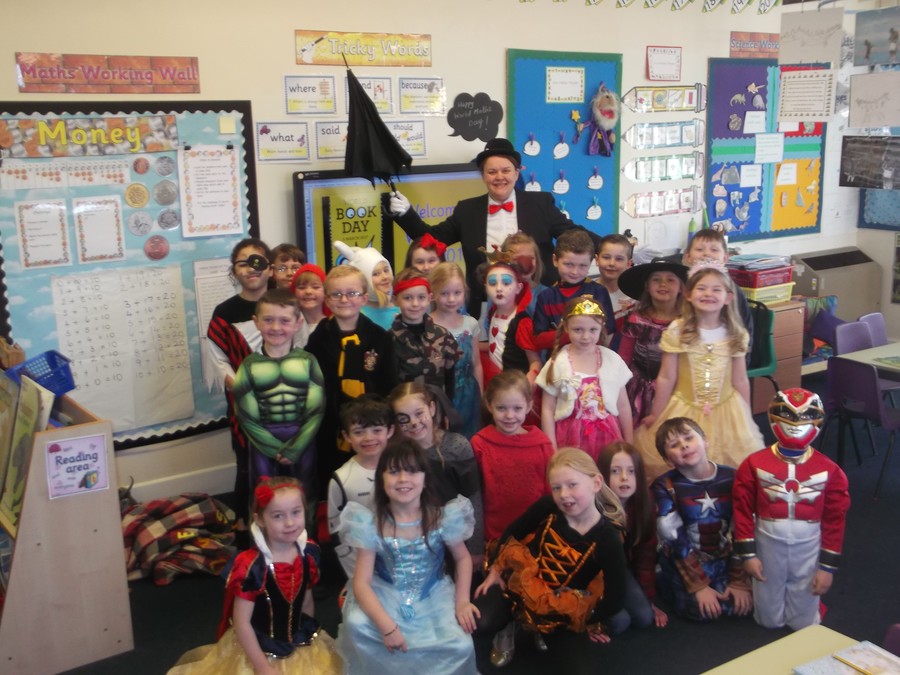 On Thursday 2nd March we had another exciting day! It was world book day 2017! We came to school dressed as characters from our favourite books. We started the morning with an assembly where we watched each class perform a catwalk show whilst we admired their amazing costumes. From each class 2 children were chosen to win a prize for the best costume. In our class Diogo and Poppie each won a great new book to add to their collections. We spent the day learning about the stories of Mrs Bruzzese's favourite author, Julia Donaldson. We looked at lots of her stories, played with story sacks, made a Gruffalo from boxes and lots more fun activities. In our show and tell time we shared our books and explained why we had chosen to be that character.
Take a look at some of our amazing costumes, aren't our parents clever?!
Our Science Trip to Carr Lane Woods March 2017
As a part of our work about plants and growing we went to the woods to learn about trees and to investigate whether trees were plants. We had lots of fun investigating, completing our true or false quiz and collecting evidence in our evidence bags to use back in school. On the way there and back had a scavenger hunt where we looked for signs of Spring- we found them all except one, which was a trick question!
This half term we have been learning about growing plants in our Science lessons. We created mini greenhouses using plastic bags, paper towels and staples and hung them up in the window to grow. We waited excitedly to see what would happen next. First the roots grew, then the shoot and then we needed to open the bags to let the plants grow up. It looked like Jack's house in Jack and the Beanstalk! After that we planted them in magic compost which was dried until we added water and watched it grow. We can't wait to plant them out in our growing bed outside after the holidays.
Space Week and Our Surprise Visitor!
We started space week with a dressing up day and a WOW! science assembly. Our costumes were amazing, we even had an Albert Einstein!
Our visit to the planetarium was a highlight of our week. We learned lots about the formation of the sun and our solar system, the Milky Way.
When we thought it couldn't get any better we had a surprise visitor. David Walliams came to see us to share stories and he really made us laugh! He gave each of us 2 of his books as a present, it was really great!
At the end of the week we had a whole school rocket competition on the playground. We had spent the week designing, building and testing our pneumatic rocket and really hoped that we would win! Some of our friends were in charge of firing the rocket and we came 3rd, which made us all very proud.
Our Amazing Trip to Brockholes 13.7.17
Today we had an excellent school trip to Brockholes Environmental Centre. We took part in lots of fun activities including environmental art, den building in the woods and pond dipping.
The art activities were great fun! We made animals from natural materials, made faces on trees with clay and discovered that we really enjoyed painting with mud!
Den building taught us important skills like team work, creativity and how to stay safe when creating amazing structures. We produced some amazing dens which even had carpets, fires and seating areas. We used our Design Technology skills, from lessons last week in school, to ensure our dens were strong and secure.
When we went pond dipping we found all sorts of creatures and crowned Charlie 'King of the Frogs' and Jamie 'King of the Newts' as we were so proud of their dipping skills.
Our trip to Brockholes was excellent, we had a great day and were commended on our lovely manners and listening skills by the staff and members of the public. Thank you to our parent helpers and friends who came along to help.
Mrs Bruzzese and Mrs Taylor were very proud of us all!
What we will be learning to do this year?
| Name | |
| --- | --- |
| Key Learning in Art and Design Years 1 and 2.doc | Download |
| Key Learning Computing Years 1 and 2.docx | Download |
| Key Learning in Design and Technology in Years 1 and 2.docx.doc | Download |
| Key Learning in Reading in Year 2.docx | Download |
| Key Learning in Writing in Year 2.docx | Download |
| Key Learning in Geography Years 1 and 2.doc | Download |
| Key Learning in History in Years 1 and 2.doc | Download |
| Key Learning in Mathematics - Year 2.docx | Download |
| Key Learning in Music Years 1 and 2.doc | Download |
| Key Learning in Physical Education - Years 1 and 2.docx | Download |