Welcome to Cellos. We are a class of 29 smiling Year 1 Superheroes and we love to learn and have fun. Our teacher is Mrs Marshall and we have help from Mrs Gordon and Mrs Bridge too. We have Growth Mindsets and know it is important to always try our best and it is ok to make mistakes. We enjoy our learning and have the opportunity to explore lots of continuous provision areas as well as our outdoor space.

We are looking forward to a very exciting year with our new curriculum.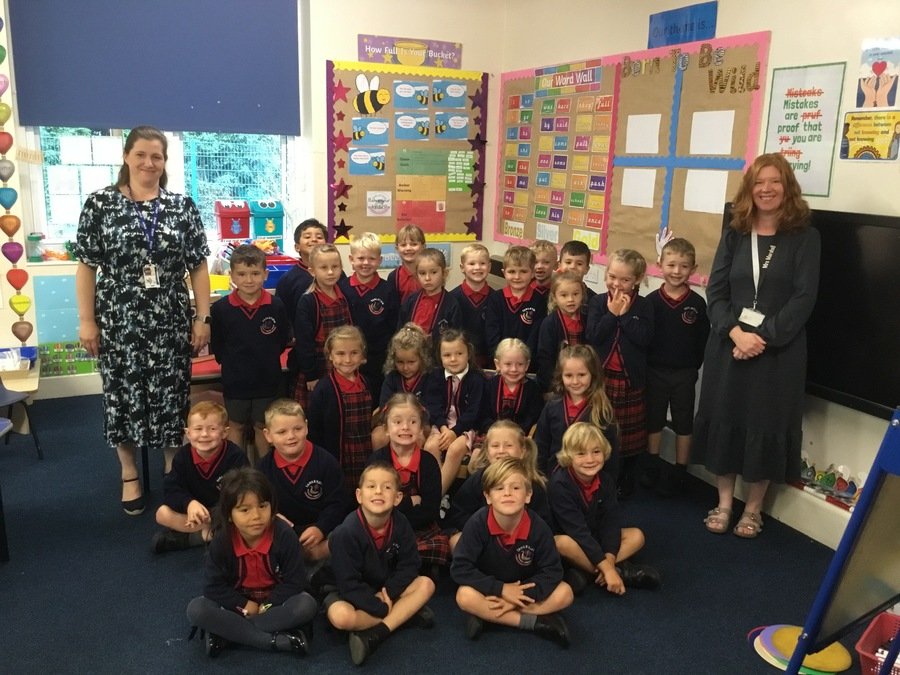 Have a look at our Knowledge Organiser for our exciting theme of 'Innovators'.
The children were given the brief to design and make a bridge that would successfully allow the 3 Billy Goats Gruff across without waking up the mean troll. Therefore they needed to design a quiet bridge. The children worked in groups to make their bridges. All our bridges were made using junk so we reused materials to help save the planet.
We are enjoying learning about the ships that Isambard Kingdom Brunel designed. We made a collaborative replica of the 'SS Great Britain.'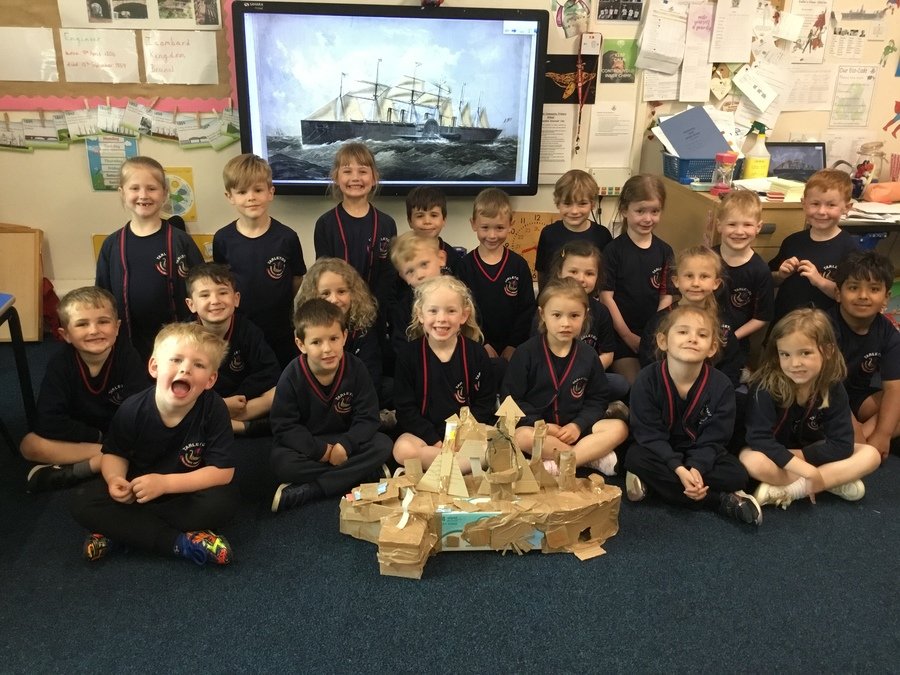 We had a fun themed PE lesson where we were building bridges with our bodies. We made bridge shapes individually, with a partner and in small groups. We actually got to pretend to be a train and go under or through the bridges!
We were learning about what a suspension bridge is and we made a human suspension bridge to help us understand their complicated design. Mrs Greenwood also made us a model suspension bridge to help us.
We were being engineers and trying to build triangle structures to form a strong bridge using sweets! We were very good at this and really concentrated!
Within our 'Innovators' theme work we have begun learning about different types of bridges. First we looked at the Beam bridge. A Beam bridge is the most common bridge form. They are the simplest type of bridge with a horizontal structure supported by piers. We made our own using cubes. We tried using different pier styles. Taller or shorter piers, more or less piers, close of further apart. We were aiming to get our Beam bridge to balance a toy character successfully.
What makes a bridge so strong?
We have been exploring how and why bridges are so strong. The children have tried to understand simple forces. Bridges balance two main kinds of forces called compression (a pushing or squeezing force, acting inward) and tension (a pulling or stretching force, acting outward). We practiced our compression and tension forces in pairs.
We were set the challenge to make a bridge just using 1 piece of A4 paper. No scissors or glue were allowed. After a few attempts, the children worked out that they needed to fold their paper. The more folds the stronger their bridge became.
In Maths we are learning multiplication and have begun learning all about arrays. We had lots of practical fun making arrays.
In Maths we are enjoying learning about weight and mass. We understand that objects can weigh the same, or be lighter or heavier. We have had fun exploring weighing objects in the classroom using balance scales. We developed this further by estimating how many cubes heavy an object would be and checking it on the scales. We have also been learning about Capacity.
We have been learning about Baptism in our RE lessons. We enjoyed recreating a Baptism. We played the role of the vicar, parents and Godparents.
Our Building Site Role Play
Having lots of fun pretending to be builders! There was some great team work, skills and creativeness shown when the children were building their bridges or houses. All safety is taken very seriously and hard hats are worn at all times!
We are also enjoying small world role play inside the classroom. We have been writing about the Three Billy Goats Gruff in English and using small world to retell the story. We have a Three Little Pigs Tuff tray where we are having fun building using straws, wood and bricks. We had fun playing a Three Little Pigs game too.
Our first attempt at building bridges…
One sunny day we went for a picnic by a river… but unfortunately we lost our favourite teddy on the other side of the river. How are we going to get our teddy back? The children were given this scenario and quickly suggested we needed a bridge. The children worked in groups with various equipment to choose from to build their bridge to rescue the teddy.
Have a look at our Knowledge Organiser for our theme 'London's Burning'.
Our Art Gallery displaying our Fire of London Art and DT work. We made moving pictures in Design and Technology and in our Art work we used our colour mixing skills. Further photographs of children with their art work can be seen. Please continue scrolling down.
Friends of TCP kindly organised an Easter egg hunt for every class in Carr Lane woods. With our waterproof coats and wellies on we walked there together and enjoyed a scavenger hunt to find Easter pictures. Once back at school we were all given an Easter egg. It was lots of fun. Thank you.
We painted a fire of London picture using our colour mixing skills to paint a sky full of flames. We added a silhouette and we all think they look very effective.
In Design Technology we have enjoyed designing, making and evaluating moving pictures. Our moving pictures have the Fire of London theme and we learnt how to make a slider or a pivot. We have people escaping on boats along the River Thames using a slider, we also have flames spreading along a slider. St Paul's Cathedral collapses on a pivot along with water being poured out of buckets. Some children even used both techniques! What creative ideas!
We dressed in blue and yellow to show our support for Ukraine and we made Ukraine flags.
Year 1 are doing so well with their weekly swimming lessons at Tarleton Academy, that they wanted to show you! The children are making fantastic progress. Many children now do not wear armbands and all children bravely jump in the deep end. As you will see from the photos, there are lots of smiling faces along with concentrating faces! The children like to splash as many adults as possible when they jump in!
More photos of the children enjoying their swimming lessons and making great progress.
After a term of additional weekly swimming lessons all of Year 1 were confident when playing in the pool!
We enjoyed dressing up for World Book Day. We read the story 'Here we are' by Oliver Jeffers. The book is about Planet Earth and making sure we are kind and look after our planet. We played some kindness games, planted some wildflower seeds and made bird feeders. We decorated our potatoes to look like the character we were dressed as. Linked to the story, we wrote a message about how we can care for our planet, these will be displayed in our outdoor area.
We were all very excited when the fire engine and fire fighters came to visit our school. We all got to go inside the fire engine but best of all we got to squirt water from real fire hoses! As they were leaving they put their loud sirens and flashing lights on just for us! Thank you to John and his crew.
The children loved re-enacting the Fire of London. We had a great narrator, Thomas Farriner the baker, Samuel Pepys, Christopher Wren, King Charles, as well as the fire fighters, flames and people escaping on boats along the River Thames. The children created most of the play themselves and it is awesome! Enjoy!
On Safer Internet Day we worked really hard learning how to keep safe on and offline. The children now know which trusted adults they can ask for help if they need to when online. They know what information is safe to share online and which information should always be kept private and offline.
As part of our team building skills in PE we have begun to work in a group to complete a hoop challenge. We had to hold hands in a circle with a hoop balanced on us all, and we had to sit down without letting go of hands or the hoop dropping. Once we were all successful with this we tried a ball pass challenge. This proved trickier but some groups managed it with varying techniques. We had to use our Growth Mindset because we did not solve these challenges on the first attempt, we had to keep trying and not give up!
We enjoyed fun STEM activities on Science day. These were linked to our theme of 'London's Burning'. We explored making a fireman's hose using different types and sizes of straws and tubing, to see how far we could blow the water. This would not have been an effective way of putting out the Fire of London.
We also worked in teams pretending to be engineers. We made a house for the 3 little pigs that would be strong enough to not blow down when the big bad wolf was huffing and puffing. Our houses were built much stronger than our Tudor houses. Mrs M and her hairdryer pretended to be the big bad wolf! Luckily our houses survived quite well.
We have worked really hard in our PE lessons on our Fire of London dance. We told the story of what happened in 1666 through dance. Our dance begins in the Bakery on Pudding Lane with Thomas Farriner going to bed leaving a spark from his oven to start the fire. The fire spreads quickly within our dance, people begin trying to escape with their possessions. We try to pull the houses down with fire hooks and axes but that was unsuccessful so we throw buckets of water and use fire pumps. After 4 days and nights the wind slows down and the fire is able to go out. We are very proud of ourselves as we had lots of choreography to remember and counting our actions to the music. Watch our fantastic dance performance!
We are enjoying our Bakery role play. We are having fun pretending to bake bread and make cakes to sell in our shop.
We have made Tudor houses as part of our theme work. We have learnt all about Tudor houses and how they helped spread the fire quickly. The houses in 1666 were made of wood and built close together.
As part of our theme work we have sung the song 'London's burning', the 1666 version with fire hooks and buckets of water instead of fire engines.
We have been learning all about London and its famous landmarks. We have looked on a map of the United Kingdom and learnt lots of facts. We know that London is the capital of England. We had fun building our own London landmarks using wooden bricks. We enjoyed building the Tower of London, Big Ben and London bridge especially.
As part of our 'Family Tree' theme we practiced the skills needed to be able to draw our self portrait. We practiced first by drawing our friends. We looked in the mirror to carefully draw our facial features. We also completed the challenge of drawing the other half of our face from a photo. We enjoyed looking at portraits of Queen Elizabeth 1st too.
It's starting to look a lot like Christmas! Cellos looked very festive in their Christmas jumpers and enjoyed their Christmas lunch.

We had lots of fun at our Christmas party! We danced, played games, passed the parcel, ate party food and even had a very special visitor!
In English, we planned a party linked to the story 'Toys in space'. The toys planned a party to cheer up the alien character, Hoctopize. So we planned a party together, invited our toys and even made our toys a party hat. We decorated the classroom with paper chains we made. We had fun playing pass the parcel, musical statues and musical bumps. Our toys had fun dancing with us too!
We have been very healthy and eaten lots of fruit today! As part of our Design and Technology we had to design a fruit salad. We enjoyed making it and eating it. We used very careful chopping skills. They were yummy!
In our English work, we are reading the story 'Toys in Space' by Mini Grey. This story has an imaginary setting. There is an alien character called Hoctopize he looks like a glove. So we made our own glove aliens! The alien was sad at the beginning of the story, but happy at the end of the story. Some groups made their glove alien double sided to show both emotions.
For Enterprise Week this year, Cellos class have become the company 'Shine Bright'. We are making star biscuits and candle jars. The children have worked hard on their advert and special song to promote their business. The winning logo design was voted for by the children and will be used on all our products. We enjoyed listening to our dragon, Mr Johnson and have put his top tips into action! All products are in production with the children especially enjoying taste testing their biscuits to check the quality! Enjoy our song and advert!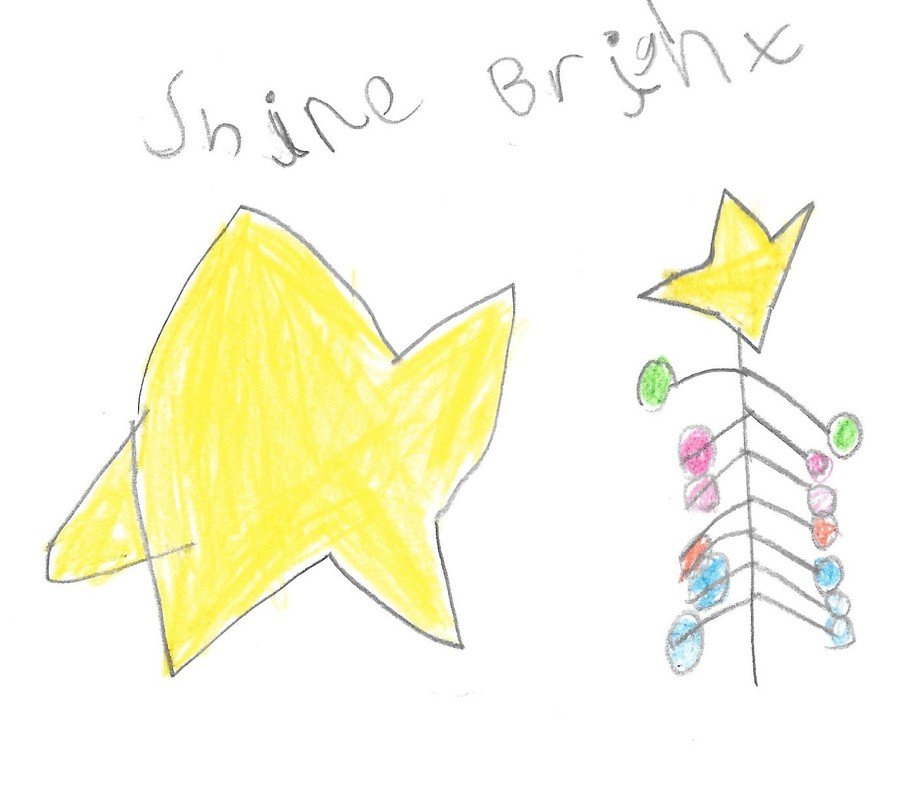 Have a look at the Knowledge Organiser below for more detail about the learning in this block.
On Lancashire Day we enjoyed our Geography work. We looked at maps of Lancashire, to understand where it is in the United Kingdom and where about in Lancashire we live. We played some compass games to help us learn and remember compass points. The children wrote about their favourite place in Tarleton. Teddy even enjoyed a fun day out in Tarleton, despite the weather!
Our fun new Maths equipment have arrived! We are enjoying using our Rekenreks! Ask us all about them!
In our Gymnastics lesson we have been developing our balancing skills individually and with a partner. We tried to balance on different body parts. We have now mastered lots of great counter balances with our partner too! We also enjoyed trying out our balances along benches! Check out our moves!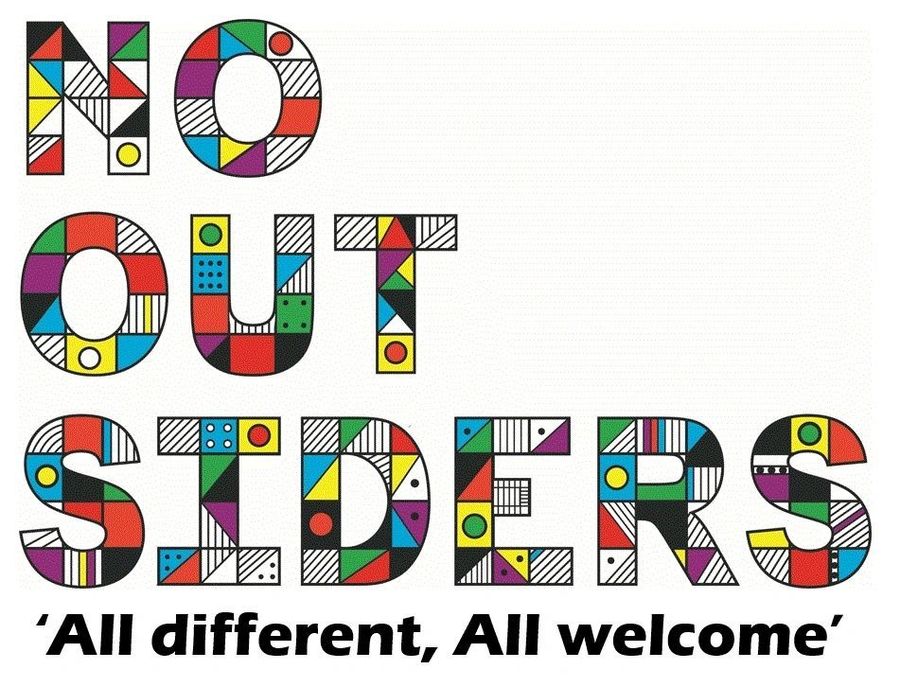 As part of our No Outsiders work this term we read the story 'Elmer'. We discussed how Elmer was a different colour to all the other elephants and how this made him feel. To celebrate his different colours we made our own Elmer collage. If Elmer was in our class we thought of lots of ways we could make him feel welcome. We are all unique! We are all special! We are all welcome!
One Kind Word - Anti Bullying
For Anti - bullying awareness this year we chose to focus on being kind. We passed a smile around the circle as a smile is an easy way to be kind and make someone feel happy. We made a kindness paperchain. We thought of lots of kind words and kind actions. We created lots of art work to display in our classroom to remind us to choose kindness!
The children wore their own clothes for Children in Need and took part in the live Joe Wicks exercise session which was lots of fun!
This half term in English, we are going to be writing a story with an imaginary setting. We have enjoyed working together to draw some fantastic imaginary settings. We have fairy land, dinosaur land and sweet land to name but a few.
As part of our Design & Technology work we are going to be designing and making a fruit salad. Linked to this we have a Fruit and Vegetable role play shop. Also we are enjoying reading and re-enacting the story of Supertato in our story shelf area. Some of us make a very good evil pea!
We all enjoyed making our own Supertato characters using potatoes!
Enjoying a spot of gardening!
A big thank you to Mr and Mrs Crivaro who kindly donated some beautiful plants to cheer up our outdoor area. The children loved planting them too and they look great.
Have a look at the Knowledge Organiser below for more detail about the learning in this block.
The children enjoying playing in our outdoor role play area. Busy being Jungle Explorers!
We have been learning about sculptures in Autumn 1, we have previously used playdough and clay. For our final sculpture, we planned our animal sculpture and we could use whichever material we wanted. Some children chose clay and others chose junk modelling. All our animal sculptures looked fantastic. We evaluated our sculptures too. We grouped our sculptures also, by habitat, animal group, what they eat or whether they live in a hot or cold country as an assessment.
We enjoyed our annual sponsored ramble to the woods to raise money for Children In Need. Thank you to all the parents and grandparents who came with us and to all those who sponsored us.
We all looked fantastic in our yellow clothes. We read 'The Colour Monster' to discuss and understand our feelings and emotions further. The children made their own Colour Monsters and enjoyed some calming Yoga. We also made worry rocks with smiley faces on, so if we were ever feeling sad we can use these to cheer us up. We enjoyed a disco and we definitely discovered dancing makes you feel happy! We had some cool moves! We also were fortunate to eat cake, again cake makes you feel very happy and feel the colour yellow. We passed a yellow balloon around the circle, giving the person to our left a compliment. We also discussed when sometimes we can feel angry and this was like blowing up a red balloon and it going pop! We talked about ways we could calm ourselves down.
In our RE we have been learning about the story of Noah's Ark. We enjoyed acting out the story in groups of 2 wearing animal masks.
Harvie the hedgehog came to visit our class today along with Louise from Woodlands Animal Sanctuary. We had enjoyed a special hedgehog themed day and impressed her with all our hedgehog knowledge. We all got to wear special gloves and stroke the hedgehog. He was quite smelly but very cute! We also made

some fantastic clay hedgehog sculptures with lots of prickles! We had fun constructing hedgehogs out of KNex too. Harvie the Hedgehog made us all smile!
As part of our theme work, Mrs Rhodes, an Ecologist came to talk to us. She explained what she does for her job, it sounded very interesting. We learnt what animals live in sand dunes, with a particular focus on the Sand Lizard. We now know lots of facts about them and how to be be careful when we visit the sand dunes to help protect them.

We are learning the Continents and Oceans of the world.
Our habitats walk to Carr Lane Woods
As part of our theme work, we enjoyed spending the afternoon walking to Carr Lane Woods. On our way we were looking at the different habitats animals could live in, especially the hedgerows. At the woods, we made shelters and dens for the animals that live in the woodland habitat. We showed great teamwork and creativity when making some fantastic natural material animals! We created a centipede, squirrel and a fox! And if you go down to the woods today... you might even see Spiderman!
As part of our theme we are learning the skills to make animal sculptures. To begin with we have made playdough animals!
We have been busy learning and having fun in Maths. Take a look!
In PE we were Jungle explorers. We had to tiptoe away from snakes, escape from quicksand, run from tigers and jump over logs. The one we most enjoyed was pretending to be monkeys!
We try to use our outdoor learning area as much as possible. We aim to use it for as many cross curricular activities as we can. Lots of our outdoor fun so far has been Maths activities. We have been throwing and catching a ball, but we had to count how many times we managed to catch the ball. We threw beanbags into hoops, counting how many went in the hoop.
Linked to our English work on the story 'Up and down' by Oliver Jeffers, we had a penguin throwing competition. In theme we have been learning about the United Kingdom, so we travelled to England, Ireland, Scotland or Wales on a giant chalk map.

Lost and Found by Oliver Jeffers
In our English work we are enjoying focusing our work on the story 'Lost and Found' by Oliver Jeffers. The children have confidently retold the story using the puppets, masks and props on our story shelves. As one of the main characters is a penguin, we have been finding out facts about penguins. We also enjoyed performing some penguin action rhymes. Enjoy our performances!
Excellent teamwork was used to build our rowing boats to get the penguin and the boy to the South Pole.


A whole class retell of the story 'Lost and Found'. We all joined in using puppets, masks and actions. I am especially proud of the confident brave narrators. Enjoy our video!

Have a sneaky peak at our classroom!

A few photos of the children settling in to their new classroom environment and exploring all the fun they can have. The children especially enjoyed the creative area and role playing in the 'Teashop', learning the different roles of chef, waiter and customers.